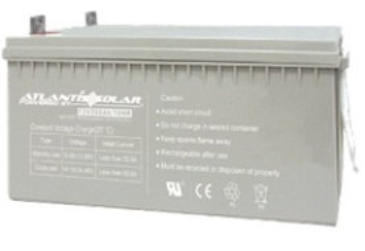 Tel:
916-226-9183 |
Save Paper Use PDF:
|
Email:
sales@atlantissolar.com
Every one is plugging in!
"Go Green"


Seychelles 2015
September 5, 2015
Dear Atlantis Solar,
Atlantis Solar Seychelles has received its Air Conditioning samples and is pleased to confirm power savings when compared against standard air
conditioning units.
The 24,000BTU Atlantis Solar Air Conditioner on average utilized 1.55-1.70kwhr depending on the environmental conditions. This unit was compared
against a Panasonic CUPC24/KF (2.60kwhr on average), Daiken R21NUV1 (2.72 kwhr on average), General 24,000BTU Unit (2.37 kwhr on average), and an
LG LS-K2462QC (2.47 kwhr on average). All figures have been received using a power monitor at residences, restaurants, and guesthouses/hotels.
This represents a power savings of 25%-43% above some of the best top brand energy saving air conditioners in the world.
The Atlantis Solar 24,000 BTU Air Conditioner was also compared to a Samsung 18,000 BTU unit and the result was an additional 6000 BTU of cooling can
be provided utilizing slightly less power than the Samsung 18,000 BTU unit.
In addition, the hot water reached a maximum temperature of 72 deg C within 40 minutes of the 24,000 unit being started with a beginning water
temperature of 23 deg C. This additional feature allows the power savings to be increased further.
Although it may take some time, the combination of power savings, hot water and the phase out of R-22 worldwide and replacement with R-410 will
force a movement towards the use of Atlantis Solar air conditioners within our region.
Best Regards,
Mr. Grant Heyer
Atlantis Solar Seychelles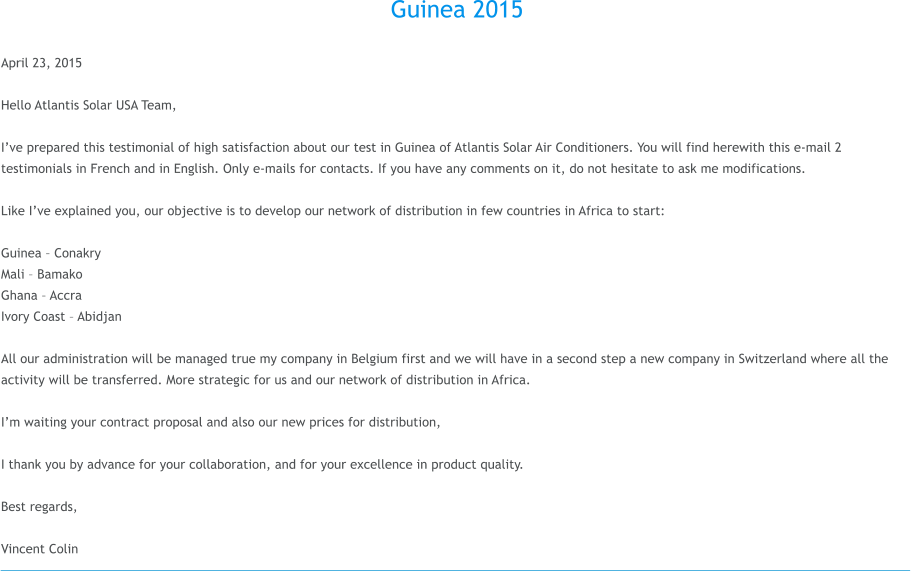 Belize Central America 201
5
Tuesday, March 11, 2015 1:38 PM
Dear Atlantis Solar,
We are writing to say how pleased we are with our Atlantis Solar AGM Deep Cycle Batteries.
Ok, our feedback so far on the batteries are that there have been no problems reported! (Which is a great thing knowing the harsh environment these
batteries have to work under). The climate in Belize is very extreme, we have to deal with very hot temperatures, high humidity and depending on
location marine climates.
Our customers also enjoy the cost and quality of the batteries as they are slightly lower than what is provided in the typical Belizean market place,
this is obviously attractive to clients just starting out.
I hope to get some additional feedback from our technicians regarding ease of transportation/ installation, and any other feedback they have found in
integrating these batteries onto existing or new systems. They have been extremely busy these past months, but hopefully I can get some insight for
you within the next week.
Thanks you!
Sara
Belmopan City, Belize
CENTRAL AMERICA
Sealed Maintenance Free Solar Battery (12V / 200Ah)
Sealed Maintenance Free Solar Battery (12V / 100Ah)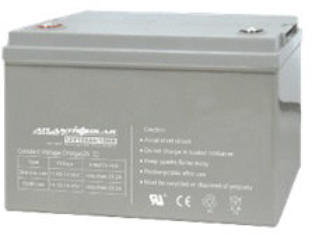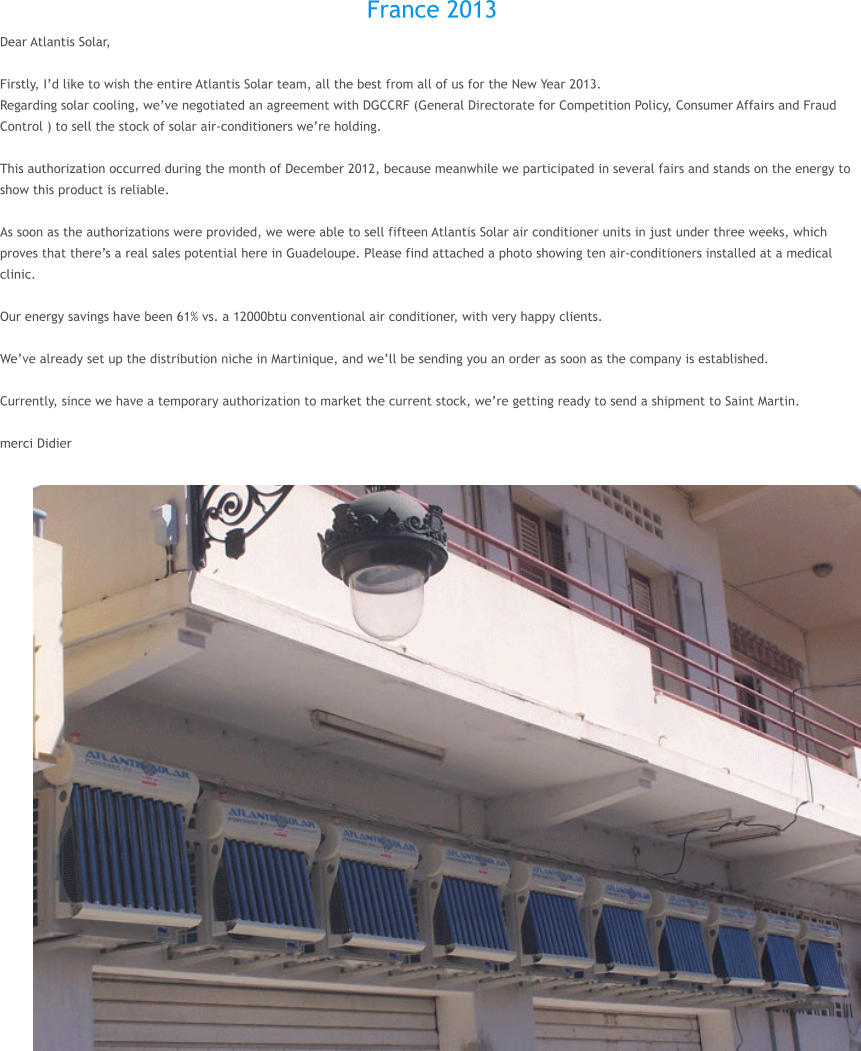 Testimonial from Nicaragua
November 30, 2010
Dear Atlantis Solar,
I wanted to send Atlantis Solar a testimonial. We have installed the 250 liter pressurized solar water heater and we couldn't be happier with it. The
water heats up fast even on cool, cloudy days and stays hot even over night. For the first time my wife was able to take a hot bath. So hot in fact we
had to add cold water. We feel so much better being able to wash our clothes and dishes with hot water. We also love that we will never have to use
any electricity and still enjoy hot water. We find the look of the stainless steel tank to be attractive on our rooftop terrace. We are so pleased we
will never have to mess with a suicide shower again or worry about a propane tank for our hot water. Thanks so much for making such a great, eco
friendly product!
Lee Greenberg
San Juan Del Sur, Nicaragua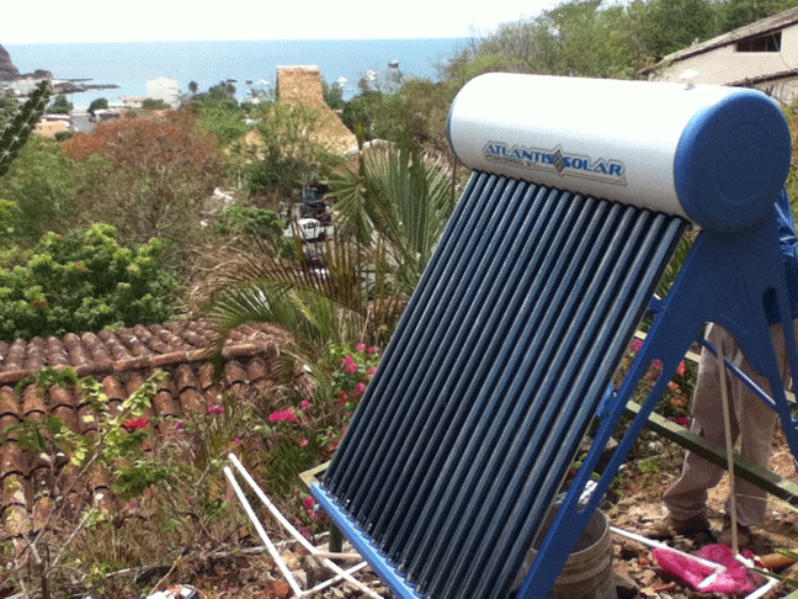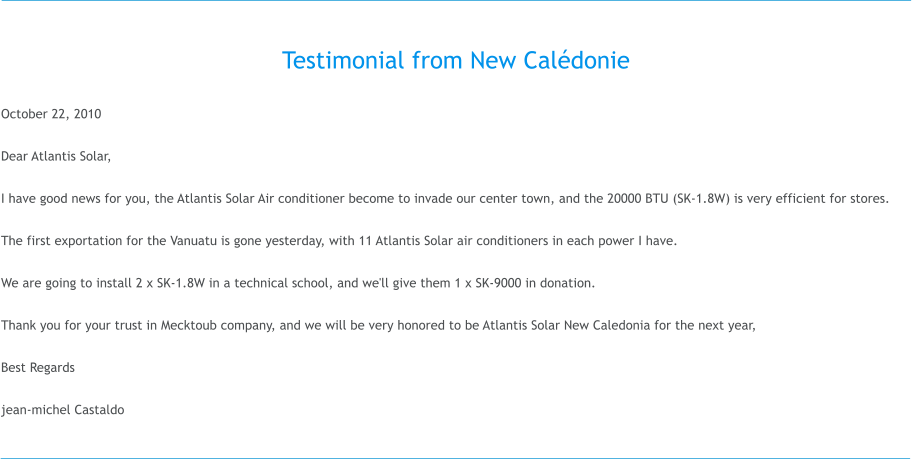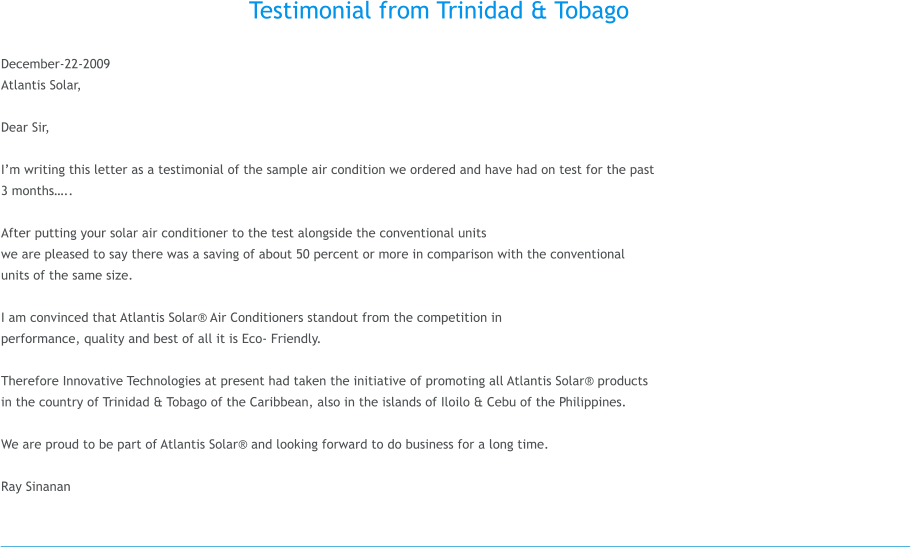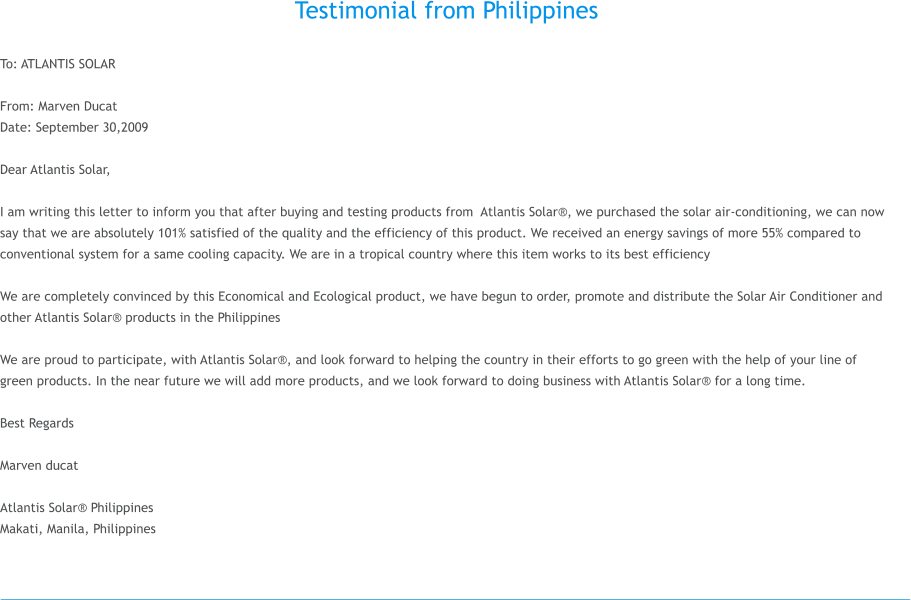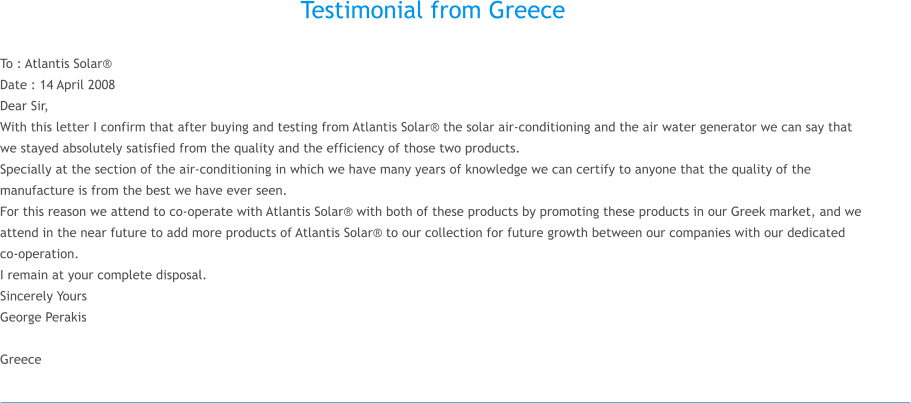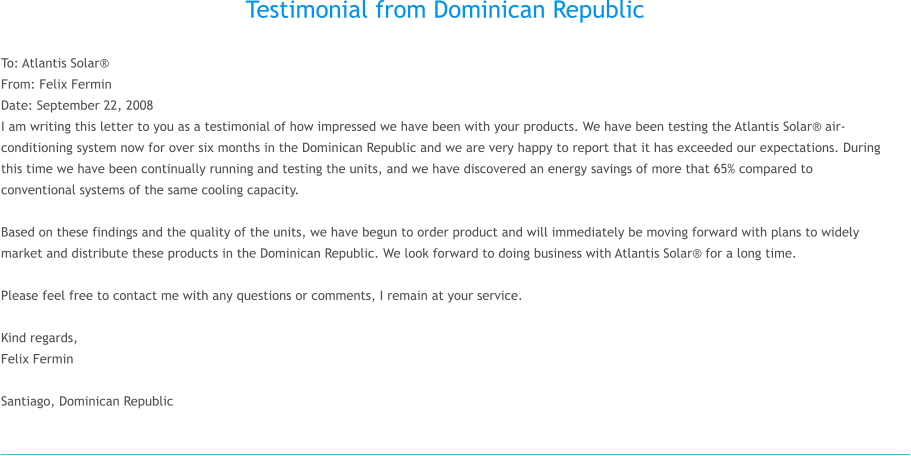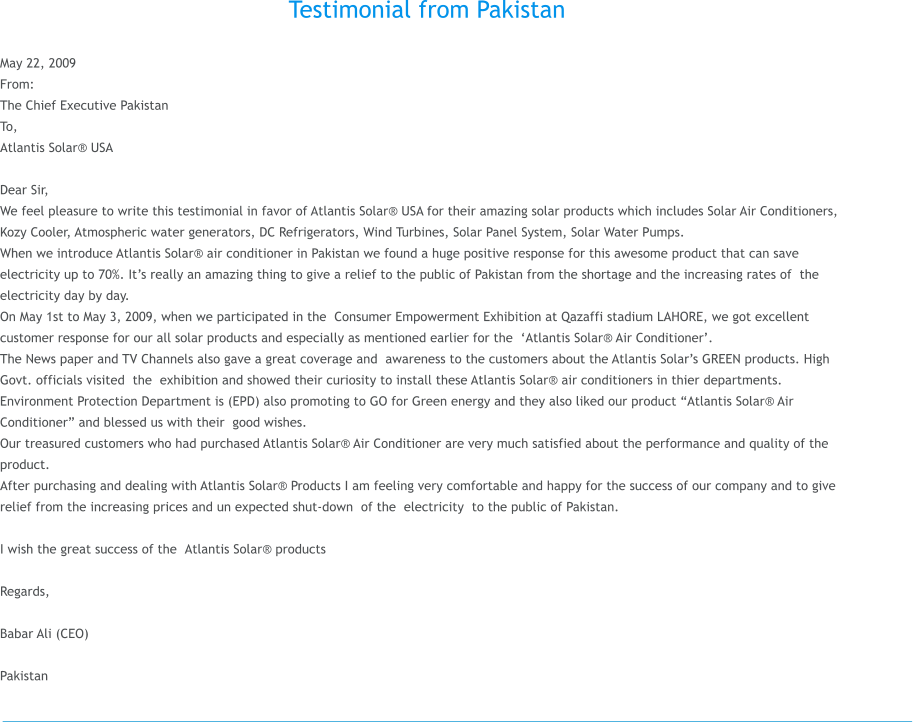 Testimonial from Nicaragua
July 22, 2009
Dear Atlantis Solar,
I am Atlantis Solar® distributor for Nicaragua.
I wanted to let you know that I installed the first solar AC 12,000 BTU unit in my shop today. It replaced a 24,000 BTU unit that is one and a half years
old. I was amazed right away by how cool the unit is. I also had to walk up to the unit three times to make sure it was still on. The 24,000 BTU unit
sound like a train and this one is incredibly quiet and cold.
As for the Atmospheric Water Generator SDAW-20L. I am extremely happy with the unit. In Nicaragua it is not recommended that the local water be
consumed. My home and office have exclusively used the 20L for over five months now. We are very happy with the quality of the water and the water
from this machine is offered to everyone who comes into the office for a sales consultation. I can't explain how much more convenient this unit is to
having the traditional water tank system this unit replaced. We had to store large five gallon bottles and replace them regularly. Now we save time,
room and a lot of back strain by using the SDAW-20L.
I am very pleased with both the quality of the goods that I am selling for Atlantis Solar® and the relationships I have developed with their staff.
They have been very accommodating with the unique needs of wholesaling and retailing in Nicaragua, and I look forward to many years of profitable
business with them. Together we can promote quality products and energy conservation. I can't think of a better business to be in.
Sincerely,
Lee Greenberg Owner:
San Juan Del Sur, Nicaragua

Testimonial from New Calédonie
To: Atlantis Solar®
From: Jean-Michel Castaldo
Date: July 27,2009
Dear Atlantis Solar,
With this letter I confirm that after buying and testing from Atlantis Solar® the solar air-conditioning, we can say that we are absolutely satisfied from
the quality and the efficiency of this product. We received an energy savings of more 50% compared to conventional system for a same cooling
capacity.
We are perfectly convinced by this Economical and Ecological product, we have begun to order, promote and distribute the Solar Air Conditioner in
the New Caledonia.
We are proud to participate, with Atlantis Solar®, against the global warning . In a near future we will add more products, and we look forward to
doing business with Atlantis Solar® for a long time.
Best Regards
Jean-Michel Castaldo
Nouvelle Calédonie

Hello Atlantis Solar,
We have Cleared the the New model Triple Compact Thermal Atlantis Solar air conditioners units form Egyptian Customs and we have received approval
for Atlantis Solar air conditioners technology in Egypt.
We have number of very successful trail samples in deferent locations and have started to get orders. We like to see how we can put the framework of
our relationship to start working together.
Plz let me know what is a good time we can have a
conference
to
begin
placing
large
orders
for
our
market.
Plz feel free to call me any time and we look forward to a very long relationship with you,
Best Regards and thatnk you for helping us make this happen,
Neil Habib Egypt


Every one is plugging in ! ®
Copyright 2003-2016 © Atlantis Solar®, All rights reserved.