***Notice***
Please read the Atlantis Solar Generator operational manual carefully before using the generator to avoid any damage by miss-operation.
Please operate the generator strictly as per the operating instructions stated in this manual. And please keep the manual available when needed.
1. Functional Features:
1.1 The generator is equipped with a custom manufactured professional solar controller and CPU, It provides Stable operation with pure sine wave both AC output & DC output.
1.2 The generator is available with 110V / 220V / 50Hz / 60Hz AC output; 5.5V/7.5V/9V/12V DC output for different applications.
1.3 With default designed protection, the generator is able to protect the solar generator system itself as well as the electric appliances it operates.
2. Introduction of Appearance: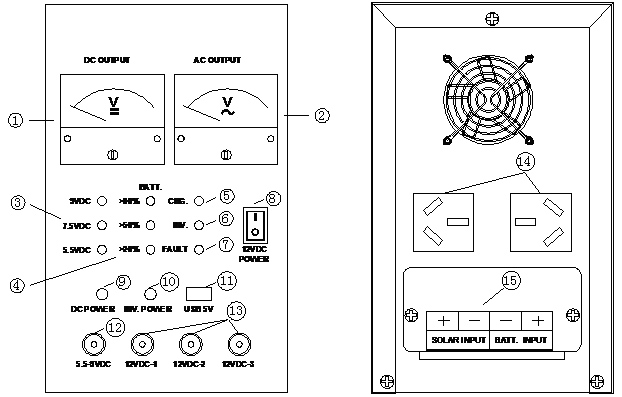 | | |
| --- | --- |
| 1. DC 12V output voltmeter | 9. 5.5V/7.5V/9V output power |
| 2. AC output voltmeter | 10. inverter power |
| 3. 5.5V/7.5V/9V indicator | 11. USB 5V output |
| 4. battery Indicator | 12. 5.5V/7.5V/9V output port |
| 5. solar charging indicator | 13. 12V/3A output port |
| 6. inverter indicator | 14. 110V / 220V AC output |
| 7. inverter fault indicator | 15. solar and battery input |
| 8. 12VDC power | |
3. Technology Index
Function

Specifications

Index

Solar charge

MAX. charging current

20A

Protection function

over current;short circuit

Control mode

PWM

Float charge voltage

27.2V

Even charging voltage

28.8V

Return charging voltage

26.4V

Temperature compensation

-4.5mv/℃/2V

Low voltage protection

22V

Return output voltage

25.2V

Inverter

Power

500W

DC input

24VDC

AC output

110Vac 60Hz / 220Vac 50Hz

Output waveform

Sine wave

Protection function

battery low;

output over voltage >135V / >250V

overload 100-120% 30s >120% 100ms >150% 50ms;

short circuit <150us

Noise

<45dB(1M)

DC power

Output 1

5.5V/0.5A ;7.5V/0.5A ;9V0.5A

Output 2

USB 5V/0.5A

Output 3

12V/3A (3 output port)

Please use 36V solar panel to charge the battery.
4.1 - Connection:
4.1.1 - Connecting the Battery 24V: BATT. INPUT (15) is the input port of the batteries. Please pay attention to the pole and make sure it is the positive pole that is connected via the positive cable. It's normal and safe that there may be some electric spark when connecting to the battery, don not worry. Please make sure there is a good contact, when connecting the battery cables firmly.
4.1.2 - Connecting the Solar Panel or Panels: pay attention to the panel's polarity and connect the solar input (15) with the panel's output port by using the cables provided. The red cable is to be connected with positive pole and the black cable to the negative pole. If the solar panel is correctly connected, solar charging indicator (5) will be brightly lit, which means that your solar generator operating normal.
4.2 - User Operation:
4.2.1 - Inverter: press the INV. POWER (10) until the INV. is working showing a bright indicator light and listen for the buzzer alarm which show the inverter is successfully operating. On the back of this system there are 2 AC output plugs with the maximum load power of 500W, so pay attention not to connect them with the exact same appliance load. There is overload and short circuit protection of this inverter. When under protection, the fault light will be bright and once an over load problem is solved the inverter will work normal again by restarting the solar generator. Press the INV.POWER (10) for about 3 seconds, the inverter will be turned off.
Notice: Don't use the INV.POWER (10) switch as the load switch.
The correct order is to turn on INV. POWER (10) first, then turn on the electric appliance.
When turning off, please turn off the electric appliance first, then turn off the INV. Power (10)
4.2.2 - 12V/3A: Press the switch for the output port (8), the output voltmeter (1) will point to 12VDC which means there is 12V DC output coming from the 3 DC ports (13). The max. current from the 3 ports is 3A, please make sure the connected load is within 3A current.. Just press switch (8) when the output ports are needed to be turned off.
4.2.3 - Power button:(9): Atlantis Solar generator has two functions, power on/off and choose the output voltage. By pressing the button for 2 seconds to power on or off. When the solar generator is powered on, double click the button within one second to choose different output voltage. This operation change the three types of voltage circulating shift. By using the power button, you can choose three different kinds of output voltage. You can then choose the right voltage of 5.5V, 7.5V, or 9V to provide power for mobile phones, digital cameras, etc. To make sure the connection is inserted to the right output voltage socket, view (12), and the voltage is suitable for the equipment. Once the voltage is chosen the output voltage will not change automatically, which can avoid the equipment being damaged from the changing voltage.
4.2.4 - USB 5V(11):The Maximum output electrical current of this socket is 500mA, this will supply power for equipment using the USB as their connections (Example MP3 Players, Cell phone charging, ect.
Packing and contents included with Solar Generator:
| | |
| --- | --- |
| | |
| Atlantis Solar 500W Production | 500W Heavy duty packaging |
| | |
| 500W package contents, solar generator, 3 pcs 12V CFL 5W bulbs with 10ft extension and hangers, 15ft solar panel cable with MC4 jacks | 125W Monocrystalline Atlantis Solar panels |
Method of solar panel connecting:
While able to convert ambient and directed sun light into solar power, solar panels are sometimes incapable of producing the power necessary to run a device on their own. Knowing how to wire your solar panels--in either series or parallel formation--will remedy this inability.

Series wiring allows your solar panels to generate more voltage while retaining their amp-hour rating, while parallel wiring does exactly the opposite, increasing the panels' longevity without increasing their voltage. Both are useful in different ways, and they can be combined in many ways
1. Step 1
Connect your solar panels in series (to increase their voltage while leaving amp-hours the same) by soldering every positive terminal to a panel's negative terminal until you have one positive and one negative terminal left. Your voltages will be added together to make a new voltage rating.
2. Step 2
Wire your panels in parallel (to increase their amp-hour rating, or longevity, without increasing their voltage) by soldering the negative terminals of each panel to one another, and the positive terminals to one another as well.

You will still have one positive and one negative terminal left over, but the voltages will not have been added, and your amp-hour ratings will have been added together instead.
3. Step 3
Combine series and parallel wiring to increase both voltage and amp-hour ratings by first wiring your cells to create the voltage you need, and then together in parallel to create your desired amp-hour rating.
Use parallel wiring to increase current (power).

This diagram shows a simple parallel circuit to increase current or power. Assume that we are using 12 volt batteries. The power of all 3 batteries add to give us the effect of a battery 3 times as powerful but the voltage stays the same at 12 volts. Parallel wiring increases current but the voltage does not change. This is the wiring used when jump starting a car for example

Use series wiring to increase voltage

This diagram shows a simple series circuit to increase the battery voltage level. Assume that we are using really big 4 volt industrial batteries.

The voltage of all 3 batteries add to give us the effect of a battery 3 times the voltage or in this case a very large 12 volt battery. In this circuit the current is the same as the current in just 1 of the batteries. But since the 4 volt industrial batteries are very large, we have in effect created a huge 12 volt battery

Use series & parallel wiring in combination

This diagram shows a combination series and parallel circuit to increase both the battery current and voltage level at the same time. Assume this time we are using 12 volt batteries.

The left to right series connection add the two 12 volt batteries to make 24 volts. And, since we did this 3 times and then connected each group of 2 (now 24 volts) in parallel we end up with one very large 24 volt battery. It has twice the voltage of a single 12 volt battery and 3 times the current or power because all 3 groups are wired in parallel.

Example to make a large 24V battery with a large amount of amp hours

4 group (s) of 2 batteries in series at 12 volts & 100 AH produce a 24 volt battery bank at 400 Amp Hours capacity.
Atlantis Solar has designed a real upgradable Plug-N-Play 100W to 1000W stand alone solar generator that can be actually used anywhere in the world with a continuous guaranteed high load capacity with out being unstable.
The benefits to our new technology unlike all other stand alone off – grid solar generators, our input charge capacity is exactly the same as our load capacity.
What this means, is that most generators may say 500W generator with a 500W load capacity, but the intake charge capacity will operate at 1/3 taking 3 to 6 hours to charge a 500W solar generator to its full 6 hour operation time.
Example: Atlantis Solar has designed our 500W stand alone off-grid solar generators to operate at a load of 500W to 600W continuous and charge at 100% of its load capacity per Kwh. This means charge intake is 500W and the load is 500W.
Benefits:
One hour full charging capability with battery level indicators

Full inverter and controller designed with microchip

High quality 316 metal powder coated box for durability

Plug – N – Play 5V to 220V operational power station

Plug – N – Play Exterior Batteries connection

Plug – N – Play Solar panels with MC4 Jacks

Heavy duty cooling fan

AC and DC visual meters

12V switching to 110V or 220V / 50Hz / 60Hz

Dual International power outlets for 110V or 220V / 50Hz / 60Hz

Dual 12V outlets / USB port 5V

5V~9V outlet
Why use our new Atlantis Solar Generator, because we guarantee after much research and testing, there is no other Solar Generator designed like an Atlantis Solar Generator.